Landscaping Fareham
Are you in search of the best providers for either hard or soft landscaping Fareham has to offer? If you are, then you need to call the team at Abbey Landscaping today on 02380 812 302. We have a long and rich history of providing exceptional levels of customer service at competitive prices whilst maintaining the highest level of results. Get in touch at your earliest convenience and let us know how we can help transform you garden space.
Superior Fareham Landscaping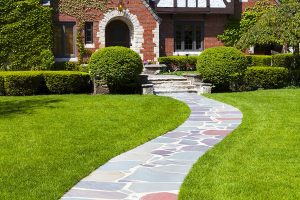 When it comes to choosing a contractor to fulfil your landscaping Fareham project, it always pays to make sure you are using the best team on the market. In this regard, you will be pleased to know that our team has made the choice easy for you by narrowing down the logical choices to just one.
Abbey Landscaping is one of the most well reputed providers of landscaping in Fareham, whether it is for minor changes or complex and comprehensive overhauls. No matter your requirements, you can be sure that we will give you unparalleled results with a personable and friendly service. This is one of the many reasons we are the only team you need to consider.
Soft Landscaping Fareham
If you are happy with the general layout of your garden and don't want to change the format, but still feel like something is missing, then our soft Fareham landscaping is perfect. We can give your garden the colour and extra something it needs to be the space you have been wanting all along.
You may be wondering what kinds of things our soft landscaping Fareham capabilities extends to. Some of the elements we can take care of include; lawns, flowerbeds, fencing, trellises, pergolas, and much more.
Hard Landscaping in Fareham
Would you like to turn your garden into something completely new like it's a completely different garden? If you would, then our hard landscaping in Fareham can provide the answer. From block paving and patios to raised flowerbeds, our team has more than enough skill and expertise to deliver unquestionably superior results.
Having trouble thinking of what landscaping Fareham you would like?
It can be difficult to decide on a design that suits your needs and budget. Simply give us a call at your convenience and we will be able to arrange a free design visit and consultation. This will give you the chance to gain insight into the process, our team, and be inspired as to what you would like from our landscaping Fareham services.
When our team member is with you, you will be able to ask all of the questions you have and work with us to finalise a design. Afterwards, we can provide a comprehensive quotation, which is completely free and all-inclusive. That's right; no hidden costs or unauthorised extras.
Why Choose Us for Fareham Landscaping?
Here at Abbey Landscaping, we have over 25 years of experience in the industry. All of our materials are sourced from reputable suppliers and we only use the best. On top of the best materials, we are dedicated to finding ways to provide our clients with 100% satisfaction – 99% is not enough for our passionate tradespeople.
Whether you have a design in mind or you would like outside input from our professional team, you can rest assured that you have the best team taking care of your project. Hosting those all-important summer barbeques will never be the same again and you can expect a slew of compliments about your new garden.
Contact Us
If you would like more information about our landscaping Fareham services, Abbey Landscaping itself, or have a trade enquiry, call our team today on 02380 812 302. Alternatively, you can contact us by filling in the online form on our website.